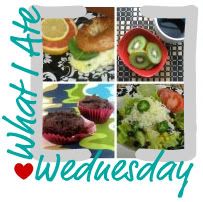 Please excuse pictures. They are from my phone. I need a new camera BLAH
Today's WIAW is brought to you courtesy of Disney Food and Wine on Sunday Afternoon...
*Caution: Lots of pictures ahead!!!!*
WIAW

v1
WIAW

v2
WIAW

v3
WIAW

v4
WIAW

v5
WIAWv6
WIAWv7
WIAWv8
We ate a lot and drank more than I ever do! So I decided since most of my readers are used to seeing my very particular food choices, and scheduled times for food I would show what a day of complete indulgence looks like.
For anyone unfamiliar with Food and Wine here it goes... There are different stations set up around Epcot, they are all based on a specific country. At each country you have a few different food options, wine or beer choices.The plates are not large and provide you with just enough to enjoy and not get too full too quickly. Brian and I decided we would share all of our plates. So we picked one item from the country of choice and we split it.
Before we made it to Disney we had our normal Sunday routines to complete. Wake up call was at 6:30am and breakfast was Egg whites, turkey sausage and half of an Udi's GF lemon muffin.
Brian left for his Baseball game and I decided I would get in a run and some cleaning.
I did a 3 mile run and then I refueled with some coconut water.
Then I nibbled a little on some of the pasta salad I made the night before for dinner.... Only a few pieces. I was trying to decide what to eat LOL
Australia- Shrimp on the Barbie
Hawaii - Pork Slider with Pineapple salsa and Tuna Poke
Mexico- Shrimp Taco Scandinavia- Rice Pudding
Cheese Plate
Italy- Ravioli formaggio Poland- Kielbasa and perogies
Pumpkin Mousse
Belgium- Mussels
France- Escargot in Brioche... MMMMMMMMMM
Ireland- Lobster and Scallop Fisherman's Pie