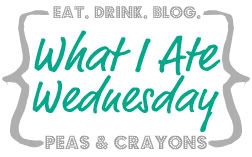 I AM BACK!!!!
So I totally punked out last week on doing a new WIAW post.... I was just so stressed with stuff at work and tired that I threw in the towel on anything an all computer related at home.
Here are some oldies
WIAW

v1
WIAW

v2
WIAW

v3
WIAW

v4
WIAW

v5
WIAWv6
WIAWv7
WIAWv8
WIAWv9
WIAWv10
WIAWv11
WIAWv12
So this week brings a few new recipes and even a.... wait for it.... wait for it... A GIVE-A-WAY. I know you are as excited as I am.
Lets get on to the food portion first..
I had been feeling bad Sunday and could not eat much of anything... which is a complete change from my eating 7 times a day. So my breakfast was a bit
lame
uneventful.
Breakfast
6am: Kashi Go lean with raisins and Almond Milk
My normal mid morning snack got skipped because our Fifth Graders put on a holiday show for my little munchkins so I didnt take it with us.
Lunch
11:30
Roasted Squash and Tomato barley salad
with some chicken
I made this the night before while I prepped my
slow cooked soup for dinner
Snack
2:30 Chobani Pomegranate Greek Yogurt
I love Pomegranate everything!!!!
Snacks
3:00 unsalted almonds
3:30 apple
Dinner
6:00
Slow cooked sweet potato and Lentil soup
and a Christmas cookie from my neighbor brought over.... yumm
OK NOW ONTO MY GIVE-A-WAY
I have been in contact with the awesome people at
Chobani Yogurt
and they sent a nice little package to my house to review. Then they stepped it up a notch and said I can offer one of my awesome readers a gift of Chobani sent to their house.
Well Check out what was on my door step when I got home from work!!!!
As you can tell Taz was pretty excited about this as well. I was totally expecting 2-3 containers of Chobani to arrive at my house. How excited was I when I continued to open and found this....
TWELVE DIFFERENT FLAVORS!!!!!!! Like I have said before I am a huge fan and eat Chobani on a regular basis, but they sent me a few flavors I have yet to try. I am super excited about the Mango. That will be making it into my lunch tomorrow!!!!!
If you are unfamiliar with
Chobani Greek Yogurt
, you either live under a rock or you completely look over it at your grocery store. Well I am here to say, stop, look around your local dairy section, and compare the labels.
Chobani Greek Yogurt
is made with only natural ingredients, No preservatives, no artificial flavors.
Chobani Greek yogurt
also offers any where from 2-4 times the protein as your typical yogurt. Which makes it a perfect choice for active individuals. Over the past year
Chobani
has become a staple in my fridge.
Chobani
is also a gluten free option and is safe for all those out there with nut and soy allergies.
So when I found out I got to offer this amazing product to one of my readers I was THRILLED to say the least.
So here is what you can do to win.
1) Comment on this blog: Let me know your favorite flavor or your favorite way to enjoy your Chobani.
2) Follow me on twitter (@fitpossible1) and then tweet this giveaway "I just entered the @chobani giveaway from @fitpossible1 (leave a comment saying you did this)
3) Follow @Chobani on twitter! (leave a comment saying you completed this)
4) Sign up for the
Chobani Newsletter
(leave a comment saying you completed this)
Leave a separate comment for each entry (maximum 4 entries)
The contest will close December 18th at midnight
So start entering!!!!! And while you wait to find out if you are the big winner head to the store and try Chobani for yourself!!!! I will tell you it is worth every penny!!!
Ciao and healthy Give-a-Ways
Alexis