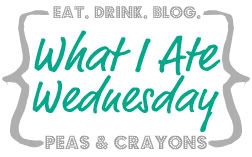 Another Wednesday, Another food Diary, Another realization of how much I consumed LOL.
For all other mass consumption....
WIAW

v1
WIAW

v2
WIAW

v3
WIAW

v4
WIAW

v5
WIAWv6
WIAWv7
WIAWv8
WIAWv9
WIAWv10
WIAWv11
WIAWv12
WIAWv13
Also a winner has been named on my Chobani Give A Way
Keep an eye out for another give a way coming to Fitpossible.
One of the joys of being a teacher is the lovely breaks we get. My last day at Work (job #1) was last Friday. The other joys of teaching is not getting paid a lot and having to work a 2nd job LOL. My 2nd job is not all that bad... I work at the Y which is a great fit for a gym rat like me and the people I work with are pretty awesome.
The one part about working at the gym you work out at... they know if you work out as soon as the doors open. If I am there at open then why not open on my days off.... Ok all this babbling has a point I swear HAHA.
This entire week I open the gym and that means my alarm goes off at 4am!!!! Yes thats right 4am!!!! So the food options are a little scarce, no cooking in the morning and I have to pack my lunches the night before. If I forget something then I go hungry LOL
So here is my Monday day of food courtesy of a 4am wake up call and dragging butt the rest of the day...
Breakfast: I started my morning with
PB jar overnight oats
This was a perfect on the go breakfast, no pot or stove required but still got in a healthy breakfast
Snack: Apple
Snack: A plain unsalted rice cake with PB and raisins
This is always a yummy option but I tried to save a bit and got the store brand... I am totally sticking to Quaker from now on.
Lunch: Now we are talking.... Left over
Lasagna
from Sunday Night
One of the good things about making big portions, is the leftovers you have in the fridge. And trust me this was a GREAT LUNCH after being at work since 4:30am.
If you are a
lasagna
fan and love veggies you have to try this
Here is where it goes a little down hill. I had a holiday party at my house on Friday after school let out. Call it a celebration of no kids if you would like LOL
So there are left over snack, sweets and goodies everywhere. I am usually very good when it comes to picking but today I couldn't resist.
I blame the lack of sleep

I have heard Brian talk about how good these shortbread cookies were for about 4 days now... Monday I finally tried one, then another.
I have to agree with Bria... they were pretty yummy for store bought cookies.
After finally talking myself into a work out and heading back to work for a meeting, it was finally dinner time. Except I was in no mood to cook. I sat for a min, looked around, thought... then it hit me YELLOW DOG EATS!!!! If you read my blog on a regular basis (or you are one of my past foodie pen pals) you know I love YDE.
YDE1
YDE2
YDE3
Brian is still working late so I went with my mom and ordered his normal Rufus to go for him. I tried something I have not had yet, The Mexican Mut
Wood smoked Chicken, black bean spread, lettuce, tomatoes, homemade salsa, caramelized onions, cilantro sour cream and cheese.
This was new dish for me and I loved it... I also love having leftovers for the next day!
Snack: Dried Pineapple and Dried Mango from a recent trip to Whole Foods.
Now on to my give away winner. I made a spread sheet of everyone who entered to make it easier on me. Then I used a random number generator to pick my winner
DRUM ROLL PLEASE.......
And the winner is: Megan
Congrats Megan. She will be getting a case of Chobani sent to her house.
Be on the look out for my next give away after the holidays.
Ciao and super tired
Alexis