Rain Rain Go away...
I am not sure about anyone else out there but here in Florida this is what we have been looking at for 3 days not...
These are from the car and my backyard...Pretty much the same sight day after day! I am all for the rainy days, but I prefer them on days I can sit at home and drink a cup of coffee from the comfort of my own couch. Oh well I digress...
There is one thing that makes this day a little brighter, if you will... it's WIAW!!!!! We all know how much I love my Wednesday Food Stalker Sessions.
Before we get started with WIAW and Today's Fit Challenge check out what has been going on this week so far in my world...
Memorial Day
Hop Squat VLOG
Food Prep Burpee Tuck Jump VLOG
Tabata Set
For an explanation and more Tabata exercises check out my
weekend on the Navy Base
For How to videos on these exercises Check out my videos on
Hop Squats
and
Burpee
.
Your Challenge: 1 round of this Tabata Set
As Always feel free to...
Ok Now on to the goodies that I call my daily eats...
A big thank you to Jenn for hosting my favorite party for another week :o)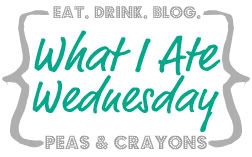 This is where my FAILED baking comes in. I tried out Baked oatmeal for the first time and I was super excited. I pulled it out of the oven, it smelled SO GOOD it looked good... but I bit in and WOMP WOMP... WELCOME TO BLAND-VILLE haha. Well I sucked it up because I do not like to waste food and decided the texture was great it just had little flavor. So I decided. Why not just top it with some "flavor" lol so I drizzled honey over the top and sliced a kiwi on top. Brian loved it this way... TEHE i am a sneaky sneaky girl. Oh well if at first you dont succeed try try again... so hopefully soon I will be posting a DELISH recipe for you, not just one that smells DELISH :o)
Breakfast: Baked Oatmeal topped with Kiwi and 2 egg whites.
Snack during my training at work: Think Thin bar, Roasted chickpeas and a banana
Snack: Hummus with a few pretzels and LOTS of cucumbers
Dinner Out: Mediterranean Salad topped with salmon.
Not Pictured: A few bites of cake. I went out for a friends retirement party and they served me cake. I would have felt really bad if I just left the entire thing. So I nibbled a little then pushed it to the side. HEY you gotta live a little right?
I know this was a long post but I hope you enjoyed and I hope you have a new workout to pin :o)
Ciao and retirement time (I wish)
Alexis